Hamilton is situated almost in the center of Marion County. The roots of the county go back to the early history of the State of Alabama. Marion County takes its name from the Revolutionary War Hero Frances Marion, and was created as the largest Alabama territorial county in 1818. At this time the county stretched deep into what is now South Alabama and Mississippi. Settlers from Tennessee, Kentucky, Georgia, and the Carolinas came here to settle what was then known as the Mid-Western Frontier. Hamilton, in its early history was first known as Toll Gate, named for a toll-gate on the old Military Road.
Hamilton spans the historic passage known as "Military Road", which was carved out of the wilderness by volunteer soldiers from Tennessee returning North to their homes from victory over the British at New Orleans in 1815. The army of General Andrew Jackson - who ordered the development of the road as a short cut between New Orleans and Nashville - camped at Military Ford, three miles south of Hamilton, as they ventured homeward. A bike and hiking trail is underway to commemorate the time-honored road's turn in United States history.
The Pikeville area - located just south of Hamilton - served as the county seat for several years until Captain A.J. Hamilton offered to donate 40 acres of his land in Toll Gate to the community. In 1883, the Toll Gate donation from Capt. Hamilton was accepted following referendum, and the name of the community was officially changed to Hamilton in his honor. His family home and grave-site is still preserved today.
From a few dozen families and settlers in the 1880's, Hamilton grew rapidly. The first school was established in 1884, and in 1891 evolved into a high school.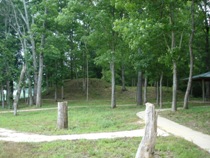 Indian history and roots are also deeply established here as well. The Chickasaw Tribe hunted here and provided corn to the newly arrived immigrants. One of the upcoming restorative efforts that the City of Hamilton has underway is to re-establish the presence of the Indian burial grounds and mounds that still remain within Hamilton along the banks of the Buttahatchee River.
One of our community's most notable figures was Hamilton native Rankin Fite, a son of a State Legislator. Rankin Fite, following in his father's footsteps, was a major figure in Alabama politics as well and served in both the House and the Senate. He eventually became a powerful Speaker of the House, leading many advances in the city, such as the county's 7,000 foot airport and a technical school which is today part of Bevill State Community College.